Deze vraag krijg ik regelmatig van klanten. Ik kan een waslijst aan voor en tegens opnoemen, maar het verschilt ook vaak genoeg per paard. Ik probeer altijd zo goed mogelijk te adviseren. De klant beslist uiteindelijk.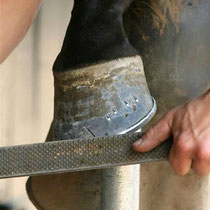 Een paard kan prima zonder ijzers, maar door de manier van houden en gebruik zullen ijzers vaak noodzakelijk zijn. Belangrijkste reden om voor hoefbeslag te kiezen is het voorkomen van slijtage; het overmatig, ongelijk afslijten van de hoeven door lopen op de straat, rondjes te draaien in de stapmolen of krabben op de wasplaats of in de stal.
De hoef is bovendien gevoeliger voor beschadiging zonder ijzers. Een steen of randje kan ervoor zorgen dat een stuk van de hoef afbreekt, waardoor de stand van de voet kan veranderen. Daarnaast vragen de verschillende disciplines ook vaak om beslag, zodat we met stiften kunnen rijden op graspistes of met slidingplates bij westernpaarden.
Klanten vragen het vaakst om advies vanwege vraagtekens bij de vorm, stand en kwaliteit van de hoeven. Deze drie elementen zijn tegelijk het lastigst te veranderen. Ze zijn meestal een gevolg van iets anders, zoals voeding, gezondheid, erfelijkheid, een blessure, lichamelijke beperking of ongemak, huisvesting, beweging of het gebrek daaraan. Hoefijzers kunnen wel helpen, maar zijn dan niet de oplossing. Er zal dan gezocht moeten worden naar de oorzaak. Is deze niet weg te nemen, dan kies je voor hoefbeslag zodat de vorm, stand en kwaliteit van de hoef niet verergeren.
Heb jij vragen over het hoefbeslag van jouw pony of paard? Laat het mij weten! Via info@hoefsmidramon.nl, Facebook of 06-21823313.